Lovelin & Renniegade Arts
When we first met Kerri (Aka Renniegade Arts) back in 2010, we knew she was one to keep and eye on.
With her bright and bold approach to illustration, we knew we would end up working with her at some point.
When we partnered with the Scottish SPCA we knew we had to work with an artist who felt strongly about their cause. When her recent video of her lovely rescue dog Patch (#patchthestaffy) went viral, we knew we had the best cause and artist combo.
Have a read at our interview with Kerri below to find out more about her and the story behind her design.
For those who do not know about you, tell us who you are and what you do?
Well my name is Kerrigan Renniegade and I'm currently a student at Glasgow Caledonian University, studying Computer Games Art and Animation. I have always been into art and I love watercolour painting and using all sorts of mixed media in my artwork. I have previously been a tattoo apprentice, voluntary youth worker and also done a lot of creative work with 'Somewhereto_" which resulted in me having my first solo art exhibition in July 2014, "The Art of HipHop"
When did you first discover you had a talent for art?
I have been drawing and painting for as long as I can remember really so I can't pinpoint a moment when I remember I had a talent. It has grown over time and through schooling and college. I had the privilege of having the most AMAZING and encouraging art teacher in high school, Linda Jamieson, she encouraged me to be me and to do what I want with my art. My Mum Kate, and the rest of my family always spurred me on as well. Im forever thankful for them displaying my artwork on their fridges and cupboard doors over the years.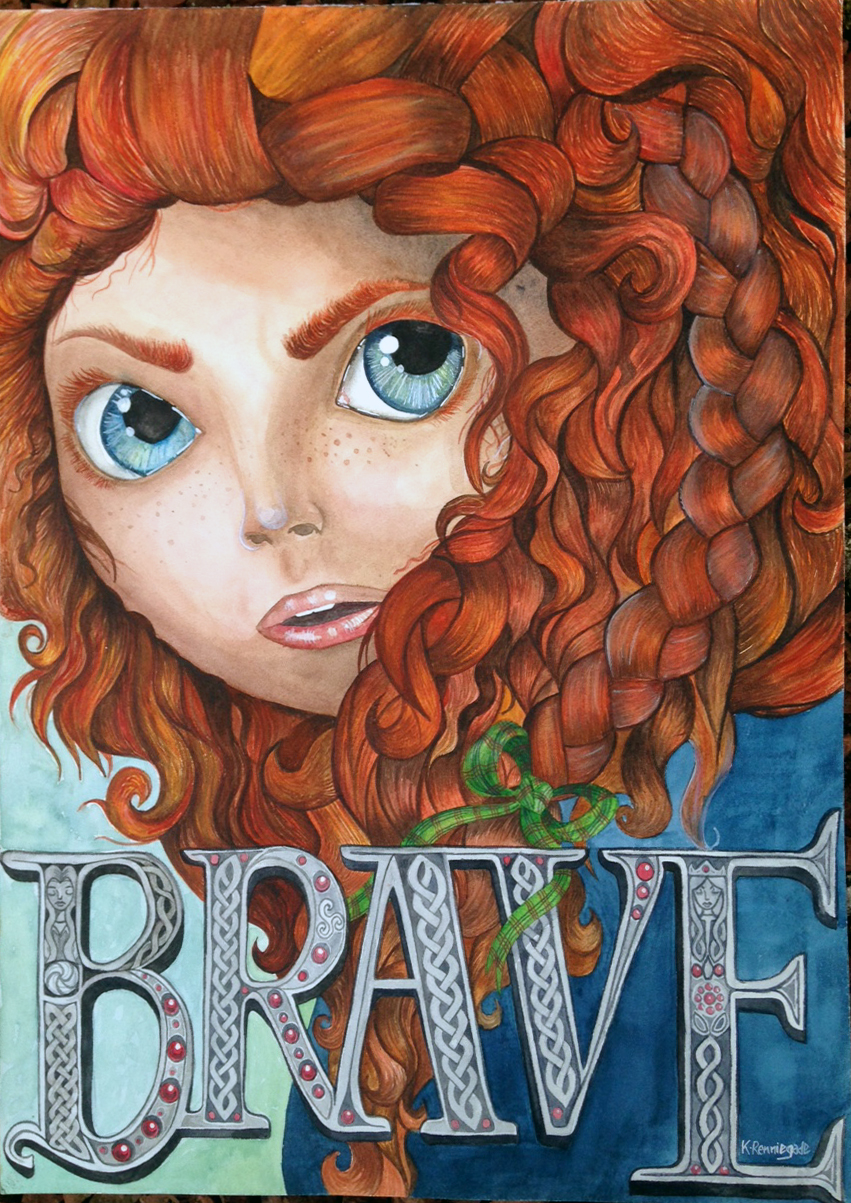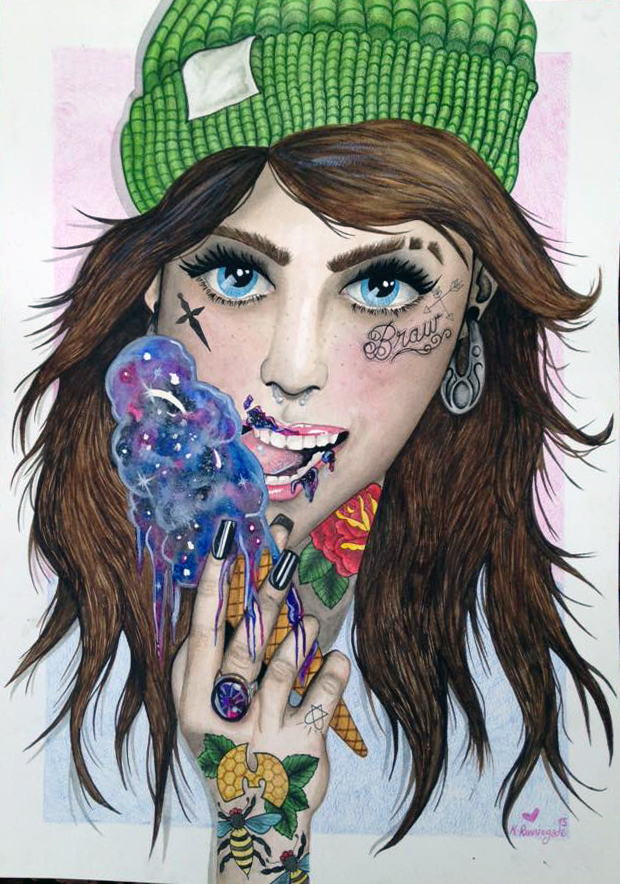 Can you tell us a little about you style and the kind of things that influence you in your art?
Only recently I would say I have a "style". People say I have one and I don't really see it. I just do what I do. My media of choice will always be watercolour and recently I have started introducing pencils, pens and some acrylic in there too and see what happens. I like painting things I enjoy, like movie and game characters or animals and stuff that has inspired recently.
Out of all the art you have produced, if you had to pick one piece what would be your favourite?
WOW! What a difficult question! They are all my babies haha! If I really had to choose one that has the most meaning to me it would have to be the portrait of my Pappy. I painted it back in 2013 for "The One Show" Summer Art Competition and got through to the semi final with it. The whole family tuned in to watch my on TV including my beloved Pappy. He was so proud of me and that really meant a lot as he sadly passed away in the spring of 2014. Im glad I was able to include him in a huge part of my art career and he was here to see it with all of the family
When we first came to you with the concept for the limited edition design for the benefit of the Scottish Spca, What were your first thoughts and how did you feel about the project?
I was over the moon! The Scottish SPCA is a charity so close to my heart as last May, my boyfriend Mark an I got our dog Patch from their Lanarkshire centre. I was so happy to be asked as its great for me to give something back as a thank you for taking great care of Patch before we managed to get him home. If it wasn't for them we wouldn't have our handsome boy! #Patchthestaffy
The design you have produced is bright, bold and meaningful can you give us an insight into the design and the concept behind it?
Well when I was given the brief the first thing I thought of was Patch of course! I wanted to portray the idea of a beginning of an adventure between a person and their new pet. My idea of the hand taking a paw was the most logical way to present this and I felt it was really loving and effective. The pattern heart in the background surrounds it all and inside the heart is a paw print, hearts and bones and also a house, representing the adventure together. I wanted the colour scheme to represent the outdoors with the green being the park where we walk Patch and the blue being the sky and the yellow being the sun. I found this worked really well and Im so happy with how it turned out!
And finally our go to end question, If you could be part of any tv show which would it be?
Oh, it would HAVE to be The Walking Dead! Its my absolute favourite tv show and I love zombie movies and I've read the graphic novels too! All of the characters are bada$$ and id love for the zombie apocalypse to happen. Mark and I would be ultimate survivors in the zombie apocalypse and with Patch we would be the absolute dream team!